The Ramsi Autumn Festival



From the race of the millipedes to the pumpkin estimation game



Red and golden, the autumn foliage glows on the slopes around our Kinderhotel Ramsi. It's another Wednesday and a perfect day to celebrate. Let's pack the games for our Ramsi Autumn Festival, along with a hearty Carinthian snack from the Ramsi kitchen and lots of good mood – and off we are to the fresh air outdoors.
Why? Quite simply: because we celebrate a big autumn festival every Wednesday. And it's always great fun.
Celebrate a fabulous autumn with us
At our Ramsi Autumn Festival, all our guest families are on their feet. They play noughts and crosses with painted chestnuts, lift and weigh pumpkins, draw colourful autumn pictures on the floor with chalk, drop cups in the shooting stall, play bowling with pumpkins, do craftwork, paint and glue. It is a joy! But the highlight of our festival is the millipede race, in which our guest families become millipedes and master a tricky course on two boards.
If you want to celebrate a fabulous autumn with us, then just come and visit us. There are still some remaining spotsavailable. And if you want to celebrate your own autumn festival at home, you can try out some of our festival ideas:
Chestnut noughts and crosses: You need 10 chestnuts, which you paint with two different colours (or mark X and O), along with a piece of paper on which you draw the playing field – and you can start playing!
Ramsi's pumpkin bowling: Lay down 2 beer benches with the seats turned toward each other to form a corridor on the ground, fill 9 plastic bottles with water to the same height (you can paint them colourfully beforehand), set them up and use a round ornamental pumpkin as a bowling ball. Then you just have to aim well – and hope that the pumpkin doesn't wobble too much.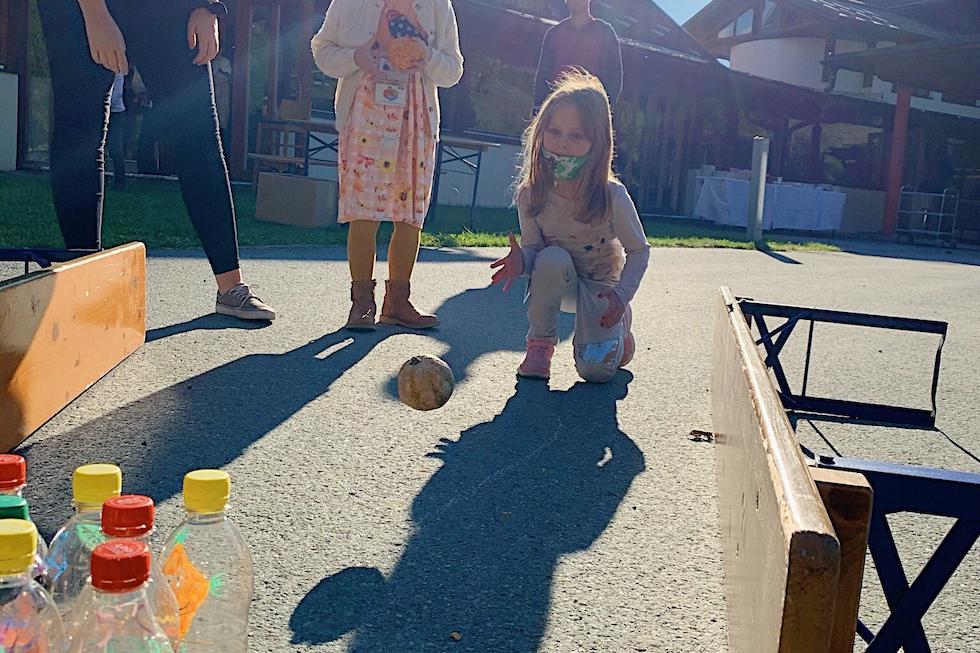 Pumpkin estimation game: Get a big pumpkin from the supermarket or fresh from the field (we always take one from Grandma Katharina's garden) and let everyone lift it and estimate how heavy it is. Then weigh the pumpkin to determine the winner. The person who has estimated the weight best wins a small prize. With us, this is usually a jar of homemade Ramsi jam!
Millepede race: Admittedly, the preparation is a bit tricky, but it's worth it! You need 2 boards with a length of approx. 160 cm each and 8 leather straps, which you nail to the sides of the boards leaving a room of approx. 30 cm between them (see photograph) – there should be just enough room to slip in with a shoe. And that's it. Then all you have to do is come up with a course, grab the stopwatch and the race of the millipedes can begin.
Finally, here are some handicraft tips to create decorations for your autumn festival:
Ramsi's autumnal leaf owls and leaf hedgehogs
You need: dry leaves – either dried with a tissue or dried on the radiator, coloured (e.g., green, yellow or beige) and white natural paper, a black felt pen, scissors, craft glue, and possibly some googly eyes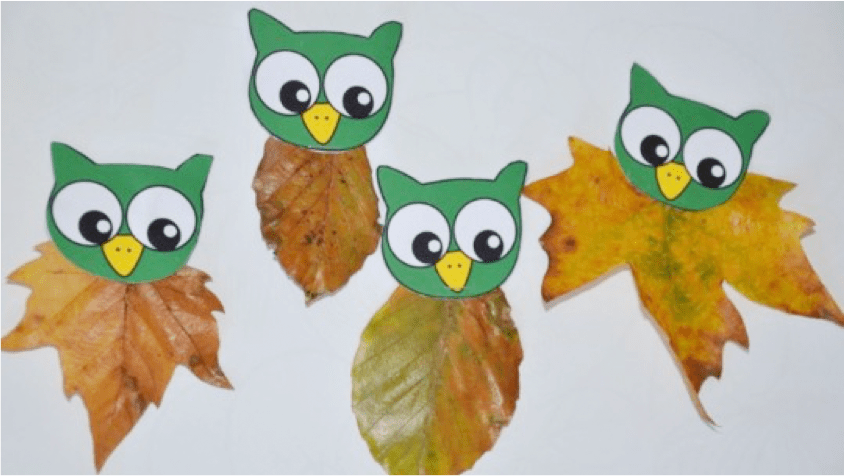 For the leaf owls:
First, cut out an owl's head from the coloured natural paper. Then take the white paper, cut out two circles for the eyes and paint the pupils on them with a black pen. Then create the beak: cut it out of the yellow paper and paint two dots for the nostrils on it. Finally, glue everything together as shown in the picture.
For the leaf hedgehogs:
Cut out a hedgehog shape from the coloured natural paper, stick the googly eyes on and paint the nose and mouth with a black pen. Then stick the leaves on the body – and the autumnal leaf hedgehog is ready.
We wish you all a wonderful autumn and lots of fun partying, playing and crafting!
At home in the nature adventure world!
The Ramsi family.