Complete relaxation in the alpine spa
Let yourself be enveloped by soothing warmth in the Alpine Spa. Relax from the top of your head to the tips of your toes. Take time for yourself while the little ones are well taken care of. Find peace, relaxation and endless pleasure. In our Alpine Spa (exclusively for adults) we have prepared many exquisite treats for you.
Sauna with exclusively reserved sauna times
in the Carnic Alpine Spa sauna area
Sit on the sauna bench, enjoy the pleasant warmth and wonderful tranquility, take a deep breath and feel completely at ease: Choose your favorite sauna, reserve it all to yourself and really enjoy yourself. You have earned it! Just let us know at the reception or by phone; we will be happy to keep your exclusive sauna time free.


The Finnish hut sauna with panoramic view of the Carnic Alps
When you take a sweat bath in our Finnish hut sauna, you can enjoy a fantastic panoramic view of the Carnic Alps during aromatic infusions. The view is so beautiful that you won't even notice how the first beads of sweat form on your skin at temperatures around 90° C.
Temperature: 80 to 100° C,
Bathing time: 8 to 15 minutes


The Sanarium, our bio sauna for gentle sauna sessions
Far less hot, but especially relaxing, is our sanarium. Temperatures around 60° C are ideal for gentle sauna enjoyment and particularly gentle on the cardiovascular system.
Temperature: 55 to 70° C,
Bath time: 10 to 20 minutes



The flower steam bath with delicate fragrances and moderate heat
Deep relaxation at pleasant temperatures around 45° C awaits you in the flower steam bath. The mixture of humid air (90% humidity), stimulating floral scents and moderate heat is wonderfully relaxing for body and mind – and a boon for the respiratory tract.
Temperature: 42 to 45° C, humidity: 90 %,
Bath time: 10 to 20 minutes
Unwind in stylish islands of tranquility
After taking a sauna, you can take a fine nap in our stylish rest islands, read a good book or simply let your mind wander. The relaxation area is wonderfully spacious and divided into several rooms, so that everyone has plenty of room to themselves. We have also set up little islands of relaxation for you in the sheltered outdoor area. Fragrant teas and refreshing juices are waiting for you at the sauna bar. Atmospheric fires flicker in the fireplaces. You will find fluffy bathrobes and bath towels in your room. All this is already included in your vacation price.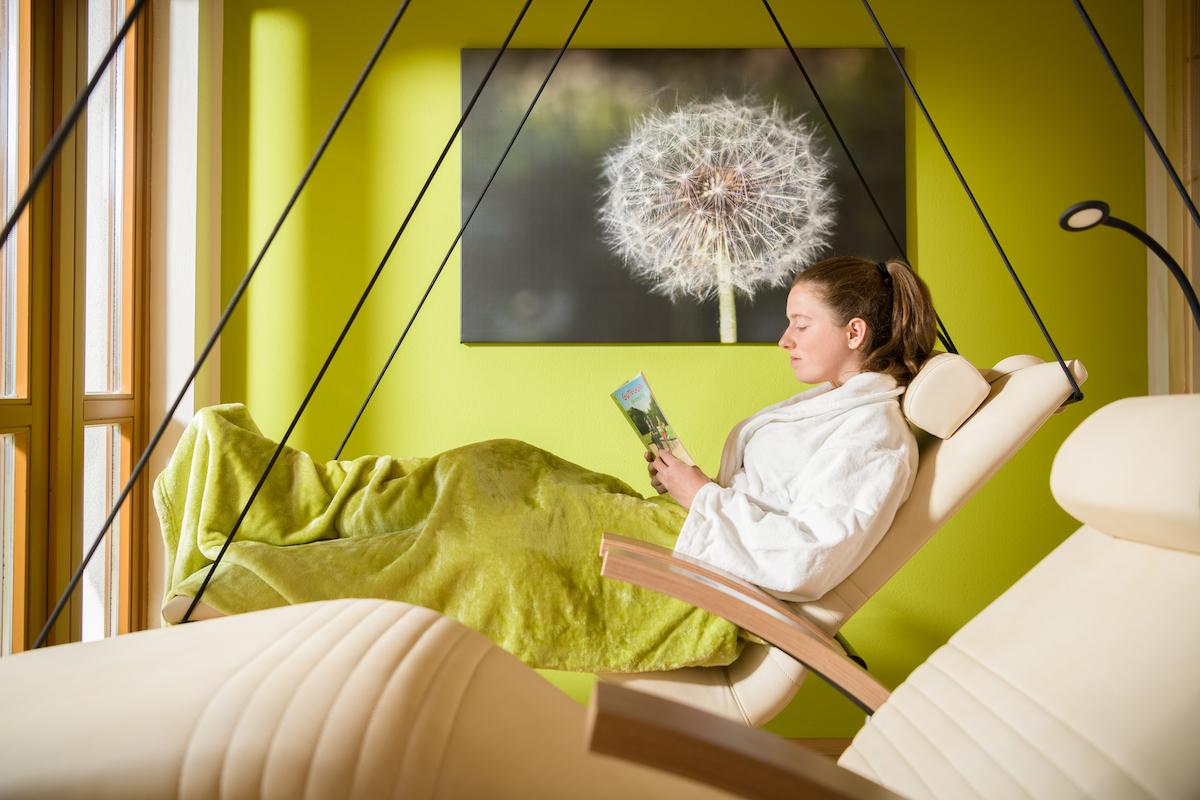 Infrared floating beds: close your eyes and float in seventh heaven
On our two infrared floating loungers you will enjoy a wonderful lightness, gentle, rhythmic rocking movements and pleasant infrared deep warmth. Just lie down on the soft upholstery, let yourself be flooded with warmth and float in seventh heaven. It almost feels like being in an infrared sauna – only a thousand times better. And if you want, you can reserve this little island of peace exclusively for yourself.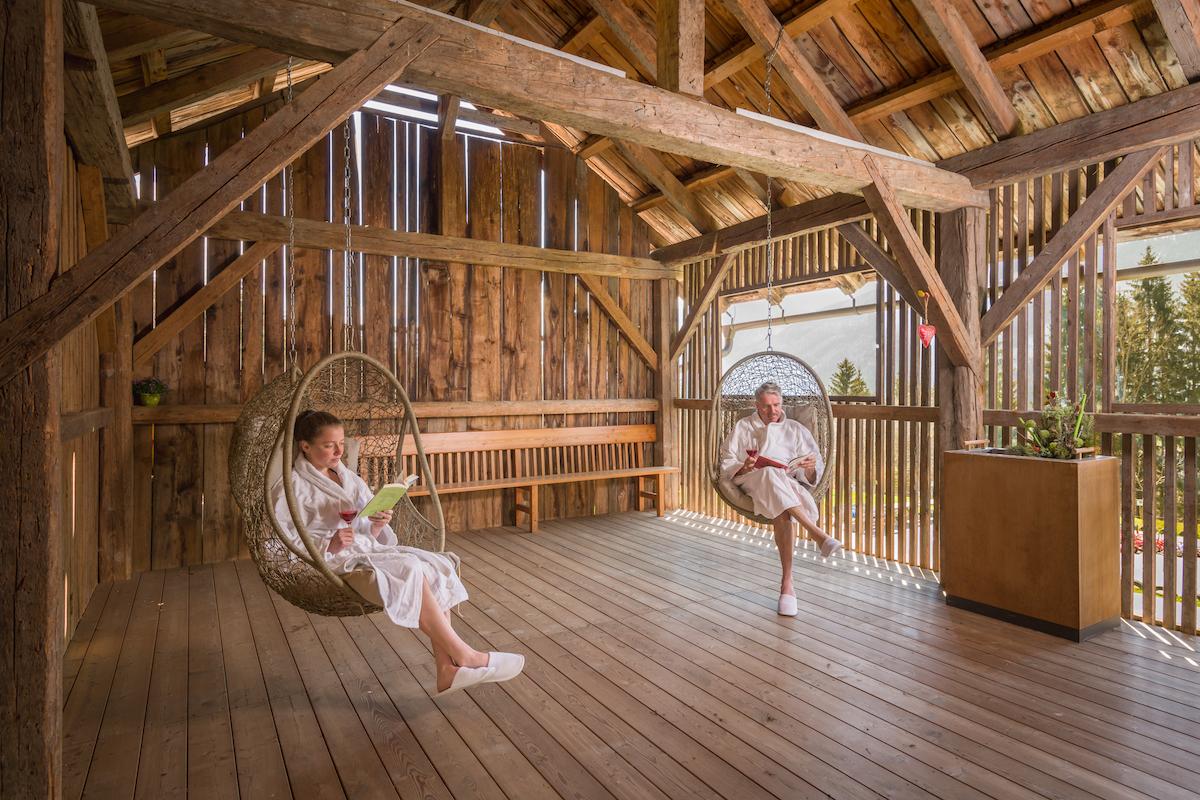 Particularly cozy place to relax
Another particularly cozy spot is our extra quiet separee with four wellness loungers from First Class Holz, which promise pure relaxation. And right next to our Finnish hut sauna you can make yourself comfortable in our hanging baskets in the protected open-air area, while in between you take a look at the peaks of the Carnic Alps. Very comfortable is also the couch furniture, which invites you to drink tea and enjoy.
Overheard in Ramsi's Nature Adventure World:

"

Just close your eyes and do nothing.

"

The rabbit mom sighed as she took a longing look at the relaxed parents at the Alpen Spa. Then she hopped after the cheerful crowd of her little ones.
Gym and sports programs for adults
For the exercise enthusiasts among you we have set up our own gym. Here you can train and increase your strength and endurance on the latest Technogym devices. Treadmill, elliptical cross trainer, bike and weight-lifting devices are ready for you. And if you are interested in group sports under professional guidance, you will certainly find it in our varied sports programs (from aqua fitness to endurance training).
You can find even more relaxing offers in our Ramsi wellness oasis under:  MASSAGES AND COSMETICS.