Our FAQs: What? When? Where? How? Here are the answers.
FAQ – We have conveniently summarized the most frequently asked questions and our answers regarding your magical family vacation with us in the beautiful Carinthian Gail Valley.
Travel cancellation insurance is always a good idea
We generally recommend that you take out travel cancellation insurance so that you can look forward to your stay with us in a relaxed manner. If there is an official travel warning for our region during the period you have booked, you can cancel your family vacation at any time (even a day before your arrival) free of charge.
For detailed cancellation conditions and T&Cs, follow this link >> Link to the T&Cs

What's new at the reception
Why should I send the information for the check-in in advance?
In order to shorten the waiting times in the reception area, we kindly ask you to inform us of the most important information for your check-in before arrival. You will receive a personalised e-mail from us with a link to the online pre-check-in.
Can I pay contactless?
Of course, you can also pay contactless with us. We will bring the invoice to your table on the evening of your departure, but you can also transfer the invoice amount in advance.
Reception by phone?
You are welcome to call us at the reception from 07:30 a.m. to 08:30 p.m. to obtain information and excursion tips, register for activities from the weekly program or in the children's club, book wellness treatments, massages, a private spa and much more. Our phone number is +43 4285 284.
Highest hygiene standards at the Kinderhotel Ramsi
What about the new hygiene standards in the hotel?
As a "children's hotel", we have been committed to a very high standard of hygiene ever since, and we have extended the measures for the current reasons. Our cleaning and disinfection plan has been updated following the current hygiene guidelines:
Hand sanitizer dispensers are distributed throughout the hotel at reasonable spots (restaurant, reception, spa, etc.).
Hand sanitizers for personal use are handed out at the reception if required.
All areas of the building are cleaned more frequently (all detergents contain disinfectants).
Certain spaces and sub-areas are regularly cleaned and disinfected before or after each use (children's club, spa, wellness area, etc.)
All rooms and doorknobs are more often cleaned and disinfected than before.
What does the new daily room cleaning look like?
The daily room cleaning has been adapted to the new standards and developed together with our hygiene partner. Our housekeeping staff works with face masks, gloves and disinfectant-containing detergents. The laundry is washed according to strict hygiene regulations by a professional company.
About Alp-Adriatic cuisine, restaurants and the Wichtelbar
What's new in the restaurants?
We are very pleased that we can continue to offer you the usual combination of the variety from the buffet and creative meals from the kitchen. In our restaurants, as usual, we have reserved your family table for breakfast, lunch and dinner. What's new: Our service staff will be helping you out at the buffet and there will be more specialties that we will serve you directly at the table.
Will the popular Ramsi buffets be back?
Yes, of course there will be our popular Ramsi buffets for breakfast and lunch and for children's meals. As usual, you can choose from many fine delicacies. Our service staff will take care of the buffets and help you with filling your plates.
What about the lemonade fountain and the self-service coffee machine?
Throughout the day you can get your favourite juices and (mineral) waters at our lemonade fountain. The coffee machine is also available from early to late – for aromatic teas, fragrant coffee specialities and creamy cocoa. We clean and disinfect it regularly. However, we ask you to accompany and supervise your children at these two "refreshment stations".
Will there be barbecue nights again?
Oh yes! And we are looking forward very much to having them. Throughout the summer (during the holidays) we will have a barbecue night every week. This year you can sit at your reserved table and get all the fine delicacies from the barbeque buffet.
Are food intolerances and allergies taken into account?
Naturally! We are very happy to do that. Please let us know before your arrival, so that we can prepare all you need.
Will the Wichtelbar and the outdoor terrace be open?
Yes! Our Wichtelbar and the outdoor terrace will be open as usual. Here you can have a fine night's drink and enjoy balmy summer evenings with a view of the clear starry sky over the Carnic Alps. You can also take your drinks to your room.
Novelties in childcare and in the children's club
What will the new way of childcare look like?
We are sure it will be excellent! The groups will be smaller and the care more personalised, and we will spend a lot of time in the fresh air and in the wild. Our childminders will also wear face masks or plastic visors and make hand washing a regular ritual with the children. But the little ones will already know this from home. We have made it our mission to give your children a wonderful holiday with lots of fun, fun and joy, even in times like these.
What do I have to consider before I take my child to childcare?
Your children are in good hands with us. And our childminders are eagerly looking forward to playing with your child, tinkering, romping and exploring the nature around our Kinderhotel. But there are some compulsory new rules of the game, so that everybody can spend a safe and great holiday with us:
Please register your children in advance for childcare at the reception or in the children's club. This year, childcare is only available with advance booking, so that we can prepare a manageable group size, enough carers and sufficiently large premises. Our caregivers will also ensure the right distance between the children and an intensified disinfection routine of the rooms and play facilities.
Please bring your children to the children's club healthy. We must not accept sicky or sick children.
We ask you, as parents, not to enter the rooms of the children's club. Our childminders will welcome your children in front of the children's club.
Please let us know if we can take your children in our arms to give them comfort when they are sad or crying. Please tell us on arrival and write it down in the children's passport.
Please bring the completed children's passport and clothing for outdoors as well as a change of clothing every day.
Have the childcare opening times remained the same?
Our childcare workers are available for you at the following times:
Care hours in the miniclub (6 to 35 months) and for children over 3 years:
Summer: Sunday 10am-4pm, Monday through Friday 10am-8pm.
Winter: Sunday 9am-4pm, Monday through Friday 9am-8pm.
Will everybody have lunch together in the children's club?

Of course! For all to gain strength, we are happy to offer your children a joint lunch with the carers in the children's club.
What do I have to keep in mind for babysitting?
Your little ones are in good hands with our baby carers. They will take care of your babies lovingly and make sure they have everything they need. But we ask you to bring a named bag with diapers, wet wipes, spare clothing, outdoor clothing and pacifiers for your youngsters. Unfortunately, your own toys are not allowed in the children's club. However, a maximum of one cuddly toy for comfort is allowed (if absolutely necessary). Of course, we have also intensified our hygiene measures in the children's club.
What about the activities and sports facilities for teens?
It looks good! All activities that can take place on our extensive hotel grounds will take place. The youth can still look forward to geocaching, football, field hockey, cocktail mixing, beauty time, stick bread grilling and much more. In the case of out-of-home activities, we must, of course, be guided by the regional suppliers. You can get the latest information at the reception, in the children's club or directly from the local providers.
Will swimming lessons be offered again?
Yes! Our swimming courses will also take place. Of course, only healthy children are allowed to participate (but that has always been the case anyway). Please visit the toilet with your child before the lesson and put on your child's swimwear in the room – and the swimming pleasure can start. We ask that only one parent takes the children to the lesson or picks them up again – parents are not allowed in the swimming pool area during the course. The meeting point is in front of the swimming pool entrance.
What do we have to pay attention to in public areas (sports hall, Eldorado, etc.)?
We ask all of you – parents as well as children – to pay attention to keeping the minimum distance of 1 m in all public areas. And that's it.
Swimming pools, relaxation rooms and sauna area
Will the swimming pools be open?
Of course! What would a summer be without water fun and splashing? All three swimming pools (outdoor pool, children's indoor pool and panoramic indoor pool) are generously built and offer you plenty of space – you will find it easy to keep your distance. They are open all day from 7:30 a.m. to 9:00 p.m.
Is it possible to go to the sauna?
Our sauna area is not only open, it becomes a free private spa for you. From 10:00 a.m. to 6:00 p.m. you can reserve limited spaces for 2 hours on your own. Simply book your private spa time at the reception (in person or by phone).
What are the rules for the relaxation rooms?
First comes rule number 1: Just relax and enjoy your holiday! We have an unbelievable amount of space and plenty of comfort beds prepared for you not only in the relaxation rooms, but also throughout the entire hotel area (while keeping a minimum distance of 1 m, of course). Mum and dad can of course move their loungers closer together. However, it is important that the distance to other guest families is maintained.
What about massages and cosmetic treatments?
It looks good! You can enjoy our entire offer in the spa area as usual. Simply lie down, close your eyes and allow the pleasant treatment to work. It goes without saying that our employees wear the obligatory face masks and sometimes also gloves.
Is it possible to use the fitness room?
Of course! Our sports equipment is already waiting for you. Simply go running or cycling, lift weights and make all your muscles yodel. We clean and disinfect the room and sports equipment regularly. However, we ask you to disinfect the devices independently as well, before and after use (dispensers are available). Thank you very much!
Overheard in Ramsi's Nature Adventure World:

"

Who said I was ugly! Am I not beautiful now?

"

The freshly hatched dragonfly spread its wings and appreciated the approving buzz of the bumblebees.
General FAQ- many questions and here are the answers to them
Skiing and snowboarding at Nassfeld
Skiing and snowboarding at Nassfeld
Also this winter you can ski full of pleasure on the Nassfeld. It is not for nothing that Nassfeld is one of the top ski resorts in Carinthia and offers you not only a fantastic mountain panorama but also a lot of space for skiing and snowboarding. A whole 110 kilometers of perfectly groomed slopes and an extensive ski area are already waiting for you. Of course, there are also a few measures here, but they are totally manageable:
FFP2 mask obligation applies on the ski bus and during the ride on the gondola.
On the Nassfeld there is a Online-Check-in
The Millennium Express on Nassfeld has its own family access this winter.
We are also happy to provide you with an app with ski area information in the form of a digital guest companion.
Our additional Nassfeld specials for you 
Nassfeld ski passes are available at the hotel: You can buy your daily and weekly ski passes conveniently at our reception.
Book ski courses and equipment online: You can conveniently reserve your ski lessons and the necessary ski equipment online in advance at >> https://www.kinderhotel-ramsi.at/preise-und-pakete/winterservice.
News from the children's ski school Thommi on Nassfeld
Also this winter the ski instructors of the ski school Thommi are full of energy and joy for you. A few small things are also different here than before. Let's see what has changed:
A maximum of 8 children are taught in a ski course group this year.
Ski courses and equipment can be reserved online: >> https://www.skischule-nassfeld.at/online-buchen, There are generally no cancellation fees.
It is requested that the ski course children are brought to the course or picked up from the course by only one person (please bring mouth-nose protection or FFP2 mask).
The ski course children have their own gondola access and ride in their own gondola. All children must wear a mouth-nose protection or tube scarf or better a FFP2 mask in the gondola. Do not forget gloves!
Winter outdoor activities off the slopes
In our region you have a lot of possibilities to experience a great winter also off the slopes. This year we have some new outdoor activities in the program, which you will surely enjoy. For example, there are guided ski tours and snowshoe hikes in the Carnic Alps and the Gailtal Alps (partly for an extra charge). Directly at our Kinderhotel we will offer animal trekking, romantic evenings around the campfire, short torchlight hikes and much more. Just have a look at our weekly program – there is a lot of outdoor fun for you.
The Weißensee – our winter Ramsi excursion tip
If you are with us in winter, you absolutely have to drive up to the Weißensee (about 30 minutes by car). The winter landscape there is simply fantastic and the natural ice on the lake is usually already so thick in mid-December that you can ice skate on it. It is a magical pleasure.
You have a toboggan run in winter. Is it possible to borrow sleds from you?
Yes, you can do that, we will gladly provide them.
We have a small arsenal of sleds, bobsleighs and sliders of all sizes (for babies, children and adults) that you can loan for free.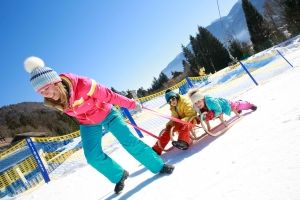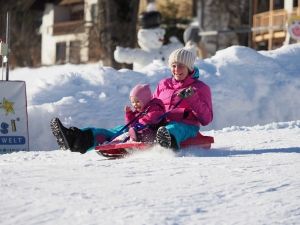 Is it possible to borrow skis from you?
For our smallest skiers (the "Pistenflöhe", approx. 2.5 to 6 years old), who learn to ski in the Ramsi ski school directly at the hotel, we have ski equipment in the house.
We are happy to provide it for free (summer/summer ski course only). Everyone else is welcome to rent the required equipment directly in the Nassfeld ski resort.
What do I have to take with me for my baby?
Well…let's think about it.
Actually, you only have to pack personal items such as clothes, a teddy bear, nappies and your baby's favourite toys.
Everything else will be prepared for you:
HiPP care kits in the room, baby monitor, baby chairs, rockers, changing pads, strollers, buggies, back rests, baby bathtub, potty, toilet seat, cribs with children's bed linen, fall protection, black-out curtains in the bedrooms, wall socket safety guard, kettle, vaporiser, bottle-warmer and nightlight.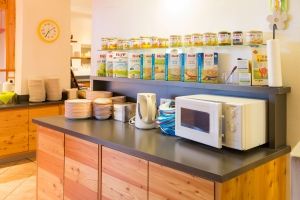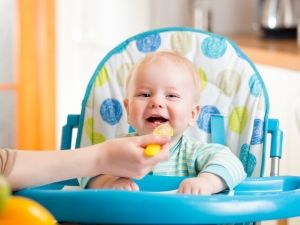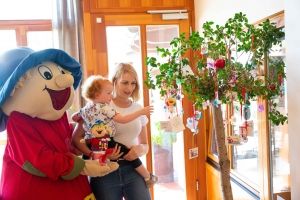 Do you have baby food too?
Naturally! Small and large meals are well catered for with HiPP baby food.
We have jars and porridge in many flavours. You can also order fresh vegetable puree from our kitchen. Bibs and children's crockery are also supplied, of course.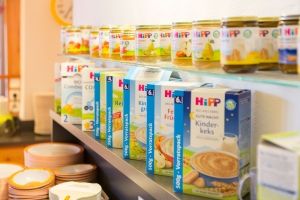 Are there any surcharges for childcare in the Kids Club?
No. Childcare in our Ramsi Kids Club is already included in your holiday price.
At what times are the children cared for in the Ramsi Kids Club?
Our children's entertainers are here for you six to seven days a week:
Summer: Monday to Friday 10 – 8 pm,  Sunday 10 – 5 pm.
Winter: Sunday 9 – 4 pm, Monday through Friday 9 – 8 pm.
Do you also have bathrobes for children?
Yes, of course.
We have available bathrobes and towels for adults and for children (in many sizes).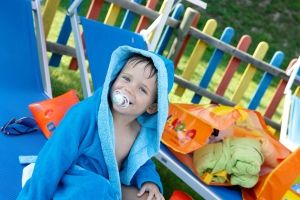 When can we check in and by when do the rooms have to be vacated?
Eure gebuchten Suiten/Zimmer sind ab 16 Uhr beziehbar.
Die Verpflegung beginnt mit dem Abendessen und endet mit dem Frühstück am Abreisetag.
Am Abreisetag räumt bitte eure Suite bzw. euer Zimmer bis 10 Uhr. Vielen Dank!
Gerne könnt ihr schon am An- bzw. Abreisetag den Mittagsimbiss und/oder die Nachmittagsjause gegen Aufpreis in Anspruch nehmen und die gesamte Ramsi-Infrastruktur nutzen.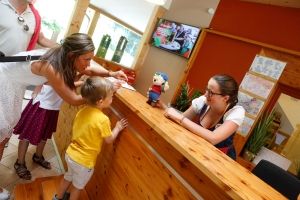 What types of payment do you accept?
On site you can pay in cash, with a Maestro bank card or with credit cards (Visa, Mastercard).
Security restrictions and limits may sometimes cause bank card and credit card withdrawals over a certain amount to be rejected, we recommend therefore that you transfer the remaining bulk amount for your booking into our account (Ramsi GmbH) prior to your arrival.
What is all-inclusive in the holiday price?
Phew – there's quite a lot.
The price includes food, childcare and the extensive wellness and leisure program. See our >>RAMSI ALL-INCLUSIVE SERVICES for a comprehensive overview.
Is there free parking at the Kinderhotel?
Yes. You can park for free at our Kinderhotel Ramsi.
What about airport and train station transfers?
Airport transfers:
We are happy to pick you up from the airport and bring you back. The drive to Klagenfurt Airport is 60 min, while Ljubljana/Brnik Airport is 75 min from the Kinderhotel Ramsi. The transfers must be pre-ordered in writing at least 1 week before your arrival (info@kinderhotel-ramsi.at).
You will receive details of the exact itinerary of the transfer one day before arrival.
Transfer costs: for 1-3 persons € 90.00 per trip, for each additional person € 30.00 per trip.
Train station transfers:
If you arrive by train, we will be happy to pick you up from Hermagor station and take you back for free. Ideally, please let us know 1 week before your arrival.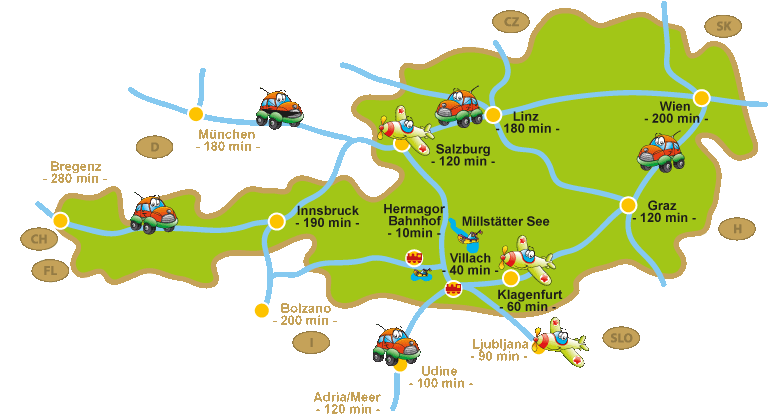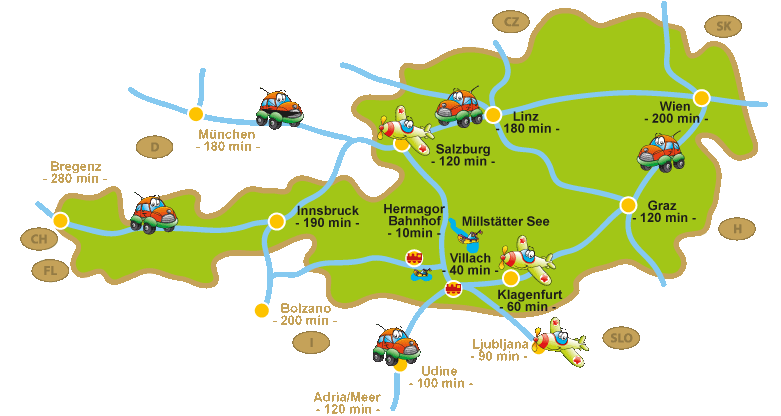 Are dogs allowed at the Kinderhotel Ramsi?
Gerne könnt ihr eure vierbeinigen Lieblinge mitnehmen. Hunde sind bei uns allerdings nur in den Zimmertypen Schmetterling, Flipp und Sonnenschein erlaubt. Bitte nehmt euren Hund nicht in den Restaurantbereich (Speisesäle) mit. Auf dem Hof ist euer vierbeiniger Freund an der Leine zu führen.
Kosten pro Hund: 20,– €/Tag (ohne Futter)
Unsere Hunderegeln findet ihr hier als Download-PDF.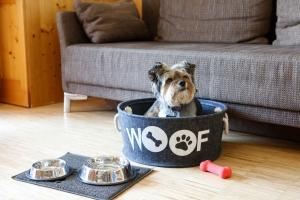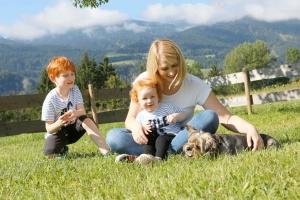 What if I have a food allergy or intolerance?
We take that into account, of course.
It is best to let us know at the time of booking or about a week before your arrival.
Is it possible to borrow bicycles from you?
Of course, happily!
If you fancy cosy family bike tours or spectacular bike adventures between mountain and lake, you've come to the right place. Our partners in the region have prepared a top selection of state-of-the-art bicycles in all sizes for you. You will find everything you need for your excursions – from mountain bikes to e-bikes, from child seats to protective gear:
If you have any further questions or personal requests, just send a quick e-mail to info@kinderhotel-ramsi.at. We will get back to you as soon as possible.