FAQs: What? When? Where? How? Here are the answers.
FAQ – We have summarised the most frequently asked questions and our answers for your imp-ortant family holiday with us in the beautiful Carinthian Gailtal Valley.
Our little chats: heart-warming extras
During our little chats you can literally bombard us with questions. Karin and Walter Ramsbacher and all our department heads are there for you at certain times (in addition to the usual reception times). They give you great tips and recommendations, tell you all about the current house rules and pass on the most important news.
We make sure that our employees are healthy and carefully comply with all guidelines
All our employees who are in contact with you are tested once a week for the COVID-19 virus. They are well trained with regard to our new hygiene guidelines and also adhere to them meticulously (regular hand washing and disinfection, monitoring of their own state of health). In addition, their temperature is measured daily when they arrive at work.
Travel cancellation insurance is always a good idea
We generally recommend that you take out travel cancellation insurance (which includes COVID infection, quarantine and the like) so that you can look forward to your stay with us in a relaxed manner. If an official travel warning is put in place for our region for your booked vacation period, you can cancel your family holiday free of charge at any time (including one day before your arrival).
For the detailed cancellation conditions and general terms and conditions of business see >> Link to AGB
Our guide to your safe Ramsi holiday

Even if the clocks are ticking a little differently this year, we know for sure: your family holiday with us will be wonderful!
There are a few things that we have to take into account, of course, because of the current coronavirus situation. However, last summer clearly showed that we are doing great together – with a well-thought-out safety concept, a bit of goodwill, accepting personal responsibility and collaboration of all of us. Thank you for your consistent support and your appreciation of our efforts!
Last update 15/09/2021
Legal regulations: face mask and distancing rules
Tested, vaccinated, recovered: What proof do I have to bring with me on holiday?
If you spend your holiday with us, you need one of the following proofs on arrival according to the regulation of the Austrian Federal Government:
Negative COVID-19 test result: Antigen tests are valid for 24 hours, PCR tests for 72 hours. Children from the age of 12 need a negative test. The test must be repeated after the expiry of the validity period. For this purpose, you can do a supervised self-test (antigen test) in the test centre in Hermagor, which will be officially filed and (in the event of a negative result) is valid for another 24 hours as an access certificate throughout Austria and for the border crossing to your home country (registration via www.kaernten.oesterreich-testet.at). If you have any questions, we are of course happy to assist you.
Vaccination certificate: Full immunization (second vaccination or vaccination in which only one dose vaccination is provided) with the validity period of 9 months. With vaccines for which only one vaccination is provided (e.g., Johnson & Johnson), the certificate is valid for a total of 9 months from the 22nd day of vaccination.
Official confirmation of a disease: not older than 6 monthsre excluded.
Do we have to wear an FFP2 mask at the Kinderhotel Ramsi?
No. According to the ordinance of the Austrian federal government, it is not mandatory for adults and children from the age of 12 to wear an FFP2 mask in all accessible indoor areas – including in all corridors, in the lift, at the reception, in the buffet area, at the bar, at the children's play area and in the public toilets.
What about the FFP2 mask requirement and keeping a distance in Austria in general?
In Austria, there is a general a FFP2 mask requirement. A FFP2 mask must be worn at these locations: in shops and cable cars, as well as in all public areas (doctor surgery, hospital ..) and in general in all places where the minimum distance of 1 m cannot be observed. For comprehensive information about the measures in Austria see www.kaernten.at/aktuelle-informationen
Outdoors you can basically move around quite casually without an mask. However, both indoors and outdoors, a minimum distance of 1 m to people who do not live in the same household must always be observed.
Do all Ramsi employees wear a mask?
No, all of our employees undergo a weekly PCR test to ensure your safety.
What's new at the reception
Can I pay contactless?
Of course, you can also pay contactless with us. We will bring the invoice to your table on the evening of your departure, but you can also transfer the invoice amount in advance.
Reception by phone?
You are welcome to call us at the reception from 07:30 a.m. to 08:30 p.m. to obtain information and excursion tips, register for activities from the weekly program or in the children's club, book wellness treatments, massages, a private spa and much more. Our phone number is +43 4285 284.
Highest hygiene standards at the Kinderhotel Ramsi
Everything is wonderfully clean and hygienic:
At our place, everything is sparkling clean – from the new lounge furniture in the Alpen-Spa to the bathtub plug in your room. With our COVID-19 hygiene and prevention concept, which we have developed with housekeeping expert Maria Radinger, we guarantee you the highest level of cleanliness, safety and hygiene:
Hand sanitizer dispensers are distributed throughout the hotel at reasonable spots (restaurant, reception, spa, etc.).
Hand sanitizers for personal use are handed out at the reception if required.
All areas of the building are cleaned more frequently (all detergents contain disinfectants).
Certain spaces and sub-areas are regularly cleaned and disinfected before or after each use (children's club, spa, wellness area, etc.)
All rooms and doorknobs are more often cleaned and disinfected than before.
What does the new daily room cleaning look like?
The daily room cleaning was adapted to the new standards and developed together with our hygiene partner. Our housekeeping staff works with gloves and disinfectant-containing cleaning agents. The laundry is washed according to strict hygiene rules by a professional company. In addition, our pillows have their own pillowcases, which are washed and disinfected after each stay. In order to be able to guarantee the minimum distance of 1 m in the room, we ask you not to stay in the room during the room cleaning or to let us know at the reception when we may clean your room.
About Alp-Adriatic cuisine, restaurants and the Wichtelbar
What's new in the restaurants?
What's new in the restaurants? We are very pleased that we can continue to offer you the combination of variety from the buffet and creativity from the kitchen. In our restaurants we have firmly reserved as usual your family table for breakfast, lunch snack and dinner. Our restaurant staff will assist you at the Ramsi buffet with breakfast and lunch as well as the children's dinner and there will also be more specialties that we will serve directly to the table.
The new breakfast hours: 7:00am to 10:00am
Children's meal: 12:00 noon (Sunday to Friday)
Lunch buffet: 12:00 noon to 1:30pm
Afternoon snack, cake and Ramsi ice-cream time: 3:00pm to 4:30pm
The new dinner times: 6:00pm to 8:00pm
What about the soda fountain and the coffee machine for self-service?
During the whole day you can get your favourite juices and (mineral) water at our soda fountain. The coffee machine is also available from early to late – for aromatic teas, fragrant coffee specialities and creamy cocoa. It is regularly cleaned and disinfected. However, we kindly ask you to accompany and supervise your children at these two "refreshment stations".
Do you also cater for guests with food intolerances and allergies?
Of course! We are very happy to do that. Please let us know in good time what we should pay attention to so that we can prepare everything for your relaxed holiday.
Are the Wichtelbar and the outdoor terrace open?
Our Wichtelbar and the outdoor terrace are currently open daily until 12:00 p.m. Here you can take a fine nightcap and enjoy balmy summer evenings with a view of the clear starry sky over the Carnic Alps. You can also take your drinks with you to the room.
News from childcare and the kid's club
What does the new childcare look like?
We believe it's excellent! The groups will be smaller and the care more one-to-one, and we will spend a lot of time in the fresh air and in the great outdoors. Our caregivers make washing hands a regular ritual with the children. But the little ones already know that from home anyway. We have made it our mission to give your children a fantastically beautiful holiday with lots of fun, games and joy even in times like these.
What do I have to consider before I take my child to childcare?
Your children are in good hands with us. And our caregivers are really looking forward to playing, tinkering, romping around and exploring the natural environment around our Kinderhotel. Nevertheless, a few new rules of the game mut be observed here, too, so that everyone can spend a safe and enjoyable holiday with us:
Please register your children in advance for childcare at the reception or in the Kid's Club. This year, childcare is only available by appointment, so that we can prepare a manageable group size, enough caregivers and sufficiently large rooms. Our caregivers also ensure the right distance between the children and enhanced disinfection of the rooms and play facilities.
The temperature of each child is measured when entering the Kid's Club (it must not exceed 37.5 °C).
Please bring only healthy children to the Kid's Club. We cannot accept sick or sickish children.
Our caregivers will welcome your children in front of the Kid's Club. We ask you parents not to enter the rooms of the Kid's Club.
Please let us know whether you allow us to give your children a hug to comfort them when they are sad or crying. Just tell us when you hand your child over and write it down in the Kinderpass.
Please bring the completed Kinderpass as well as outdoor clothing and a change of clothing every day.day.
Have the childcare times remained the same?
Our caregivers are available for you at the following times: childcare hours in the Mini Club (6 to 35 months of age) and for children older than 3 years:
April, May, June, September, October and November: Saturday and Sunday 10 a.m. – 5 p.m., Monday to Friday 10 a.m. – 8 p.m.;
July and August: Sunday 1 –5 p.m., Monday to Friday 10 a.m. –8 p.m.
December, January, February and March: Sunday 9 a.m. – 4 p.m., Monday to Friday 9 a.m. – 8 p.m.
Do the children eat lunch together in the Kid's Club?
Of course! For general strengthening, we are happy to offer your children lunch together with the caregivers in the Kid's Club.
What do I have to provide for baby care?
Your little ones are in good hands with our baby caregivers. They will lovingly nurture your babies and make sure they have everything they need. We only ask you to bring a named bag with diapers, wet wipes, a change of clothing, outdoor clothing, and pacifiers for your youngest ones. Unfortunately, it is not allowed to bring the children's own toys in the Kid's Club. At the most, one cuddly toy to comfort is allowed (if it is absolutely necessary). Of course, we have also increased our hygiene measures in the Kid's Club.
What about the activities and sports facilities for teens?
It looks good! All activities that can take place on our extensive hotel grounds will take place. The youth can still look forward to geocaching, football, country hockey, cocktail mixes, stick bread grilling and much more. For activities outside of the hotel grounds, we must of course comply with the rules of our regional providers. We have already put together an exciting and varied family activity program for you. You can get the latest information at the reception, in the Kid's Club or directly from the local providers.
Will swimming lessons be offered again?
Yes! Our swimming lessons will also take place. Of course, only healthy children are allowed to participate (but that would always be the case anyway). Please make sure your child goes to toilet before the lesson and changes in swimwear in the hotel room – and the swimming pleasure can start. We ask you that only one parent shall bring the child to the lesson and pick it up again. During the lesson, parents are currently not allowed in the indoor pool area. The meeting point is in front of the indoor pool entrance.
What do we have to pay attention to in public areas (sports hall, Eldorado, etc.)?
We ask all of you – parents as well as children – to pay attention to keeping the minimum distance of 1 m in all public areas. And that's it.
Swimming pools, relaxation rooms and sauna area
Are the swimming pools open?
Of course! What would a Ramsi holiday be without water fun and splashing? Our swimming pools are generously built and offer you plenty of space – you will easily keep your distance. They are open all day from 7:30am to 9:00pm.
Is it possible to use the sauna?
Yes, sure! Our sauna area is still open to you (except the family sauna) every day from 10am to 6pm. Simply choose your favourite sauna (steam bath, Finnish sauna or sanarium) and treat yourself to an hour of well-being. A maximum of four families are allowed in the sauna area at the same time – so we ask you to reserve your sauna appointments at the reception in advance. You will then receive your own access card from us – and nothing stands in the way of your carefree sauna fun.
What are the rules for the relaxation rooms?
irst comes rule number 1: Just relax and enjoy your holiday! We have an unbelievable amount of space and plenty of comfort beds prepared for you not only in the relaxation rooms, but also throughout the entire hotel area (while keeping a minimum distance of 1 m, of course). Mum and dad can of course move their loungers closer together. However, it is important that the distance to other guest families is maintained.
What about massages and cosmetic treatments?
It looks good! You can enjoy our entire offer in the spa area as usual. Simply lie down, close your eyes and allow the pleasant treatment to work. It goes without saying that our employees wear the obligatory face masks and sometimes also gloves.
Is it possible to use the fitness room?
Of course! Our sports equipment is already waiting for you. Simply go running or cycling, lift weights and make all your muscles yodel. We clean and disinfect the room and sports equipment regularly. However, we ask you to disinfect the devices independently as well, before and after use (dispensers are available). Thank you very much!
Leisure activities in the Hotel
Will there also be a weekly activities programme?
Naturally! We have already thought about many great activities for you, which will make your holiday even more exciting, interesting, fun and varied. This year, the activities will be facilitated in several small groups. We therefore ask you to make a reservation in advance. Thank you!
Will the excursion destinations offered by the +CARD holiday be open?
Yes, they will. The whole Nassfeld with its diverse adventure worlds is already waiting to be explored by you. All cable cars and the summer toboggan run are also in operation. There are some special features to consider this year, as everywhere. At the gondola, for example, each family rides in its own gondola. The details can be found directly at each excursion destination.
Are the outdoor pools at Pressegger Lake also open?
Yes, they are. Ask at the reception for more information.
Skiing and snowboarding on the Nassfeld
This winter, you will be able to enjoy skiing on the Nassfeld as usual.
There are good reasons why the Nassfeld is considered one of the top ski areas in Carinthia, as it offers not only a fantastic mountain panorama but also wonderfully generous, wide spaces for skiing and snowboarding. A total of 110 perfectly prepared kilometres of pistes and an extensive ski landscape are awaiting you. Of course, there are a few measures to observe here too, but they are totally manageable:
In the ski bus and in the enclosed gondola lifts (Millennium Express, Zweikofelbahn, Trogkofelbahn – that is 3 out of a total of 30 lifts) face masks must be They can be switched for fashionable loop scarves (buffs) which are absolutely perfect for this purpose. You can quickly pull them up and shift them down again, they keep the neck nicely warm, protect against wind and weather and on top of that they look totally stylish. If you don't have your own loop scarf, you can get such a buff at the reception.
The Millennium Express has a special family access facility this
An app with ski resort information is work in progress.
Our additional Nassfeld specials for you
Nassfeld ski passes are available at the hotel: For your convenience, you can buy your day and week tickets from our reception.
Book ski lessons and equipment online: It is easy to reserve your ski lessons and the necessary ski equipment online at >> https://www.skischule-nassfeld.at/online-buchen.
Special ski bus for our Pistenflitzer kids: Our little skiers who learn the right turns in Thommi's ski school on the Nassfeld, will be taken by a special ski bus from our Kinderhotel to the Nassfeld (Tröpolach) in winter 2020/2021.
Outward journey: probably mornings at 8:45am
Return journey: probably around noon at 12:45pm
Special ski bus for all parents and children: There are also plans to hire a private morning ski bus for parents and children to the top of the pass during the holiday season (Christmas, mid-tern school holidays and Easter holidays) and during carnival time.
This year, all ski lessons start on Sundays, including those of Ramsi's Pistenflöhe kids.
News from Thommi's children's ski school on the Nassfeld
This winter, once again, the ski instructors of Thommi's ski school are awaiting you full of energy and anticipation. A few small things are different from before though. Let's see what has changed:
A maximum of 8 children will be taught in a ski course group this year.
Ski lessons and equipment can be reserved online: https://www.skischule-nassfeld.at/online-buchen. There are generally no cancellation fees.
It is requested that the children participating in ski courses are taken to the course or picked up from the course by only one person (please wear a face mask).
The children participating in ski courses have their own gondola access way and a gondola is reserved for children only.
All children must wear loop scarves (compulsory in the gondolas) and gloves.
Please give the children a small snack for the day. Drinks will be provided on site.
The minimum distance of 1 meter (or one baby elephant) must be observed both on and off piste.
Special ski bus for Ramsi's Pistenflitzer kids: Our little skiers who learn the right turns in Thommi's ski school on the Nassfeld, will be taken by a special ski bus from our Kinderhotel to the Nassfeld (Tröpolach) in winter 2020/2021.
Outward journey: probably mornings at 8:45am
Return journey: probably around noon at 12:45pm
Winter outdoor activities off-piste
In our region you have many opportunities to experience a great winter, even off the ski slopes.
This year we have some new outdoor activities in the program that you will certainly like. For example, there are guided ski tours and snowshoe hikes in the Carnic Alps and the Gailtal Alps (some at an extra cost). Directly in our Kinderhotel we will offer animal trekking, romantic evenings by the campfire, short torchlight hikes and much more. Just take a look at our weekly program – there's a lot of outdoor fun for you.
The Weißensee Lake – Ramsi's wintry excursion tip
If you are with us in winter, you have to go up to the Weißensee Lake (it is about 30 minutes drive). The winter landscape there is simply fantastic and the natural ice on the lake is usually already so thick in mid-December that you can do ice skating. It's a magical treat.
Overheard in Ramsi's Nature Adventure World:

"

Who said I was ugly! Am I not beautiful now?

"

The freshly hatched dragonfly spread its wings and appreciated the approving buzz of the bumblebees.
Our FAQs: What? When? Where? How? Here are the answers.
What do I have to take with me for my baby?
Well…let's think about it.
Actually, you only have to pack personal items such as clothes, a teddy bear, nappies and your baby's favourite toys.
Everything else will be prepared for you:
HiPP care kits in the room, baby monitor, baby chairs, rockers, changing pads, strollers, buggies, back rests, baby bathtub, potty, toilet seat, cribs with children's bed linen, fall protection, black-out curtains in the bedrooms, wall socket safety guard, kettle, vaporiser, bottle-warmer and nightlight.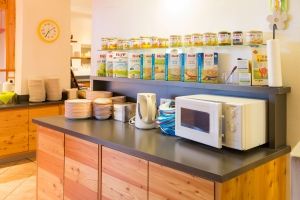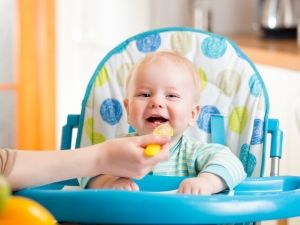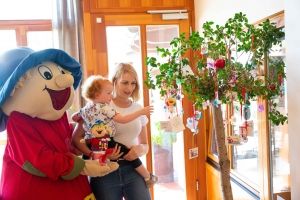 Do you have baby food too?
Naturally! Small and large meals are well catered for with HiPP baby food.
We have jars and porridge in many flavours. You can also order fresh vegetable puree from our kitchen. Bibs and children's crockery are also supplied, of course.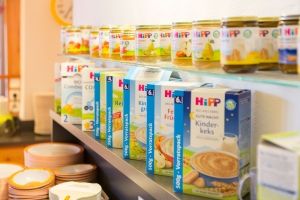 Are there any surcharges for childcare in the Kids Club?
Nope. Childcare in our Ramsi Kids Club is already included in your holiday price.
However, we may do special trips (especially with our teens) that incur extra costs, such as rafting on the Gail River. Of course, we will discuss this with you in advance.
At what times are the children cared for in the Ramsi Kids Club?
Our child entertainers are there for you six days a week:
• In summer: Sunday 1-5pm, Monday to Friday 10am to 8pm
• In winter: Sunday 9am to 4pm, Monday to Friday 9am to 8pm
Do you also have bathrobes for children?
Yes, of course.
We have available bathrobes and towels for adults and for children (in many sizes).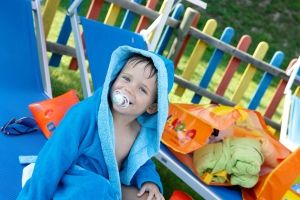 When can we check in and by when do the rooms have to be vacated?
Your booked suites/rooms are available from 4pm.
Meals start with dinner and end with breakfast on the day of departure. On the day of departure, please vacate your suite or room by 10am. Thank you very much!
You are welcome to take away a lunch snack and/or the afternoon snack free of charge on the day of arrival and departure, and on both days you can use the entire Ramsi infrastructure.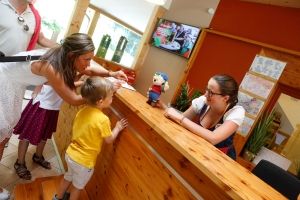 What types of payment do you accept?
On site you can pay in cash, with a Maestro bank card or with credit cards (Visa, Mastercard).
Security restrictions and limits may sometimes cause bank card and credit card withdrawals over a certain amount to be rejected, we recommend therefore that you transfer the remaining bulk amount for your booking into our account (Ramsi GmbH) prior to your arrival.
What is all-inclusive in the holiday price?
Phew – there's quite a lot.
The price includes food, childcare and the extensive wellness and leisure program. See our >>RAMSI ALL-INCLUSIVE SERVICES for a comprehensive overview.
Is there free parking at the Kinderhotel?
Yes. You can park for free at our Kinderhotel Ramsi.
What about airport and train station transfers?
Airport transfers:
We are happy to pick you up from the airport and bring you back. The drive to Klagenfurt Airport is 60 min, while Ljubljana/Brnik Airport is 75 min from the Kinderhotel Ramsi. The transfers must be pre-ordered in writing at least 1 week before your arrival (info@kinderhotel-ramsi.at).
You will receive details of the exact itinerary of the transfer one day before arrival.
Transfer costs: for 1-3 persons € 90.00 per trip, for each additional person € 30.00 per trip.
Train station transfers:
If you arrive by train, we will be happy to pick you up from Hermagor station and take you back for free. Ideally, please let us know 1 week before your arrival.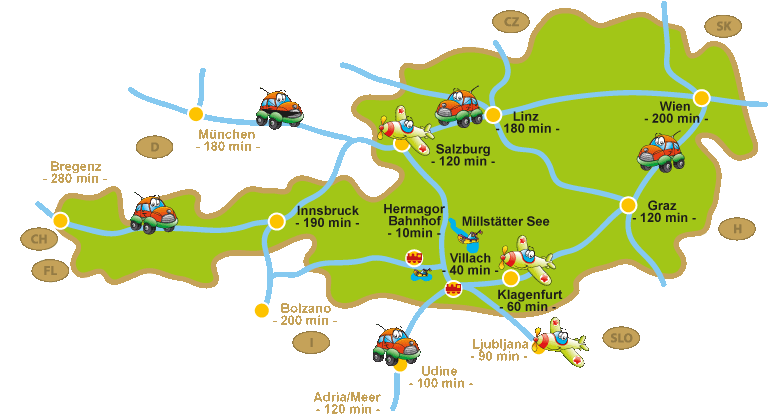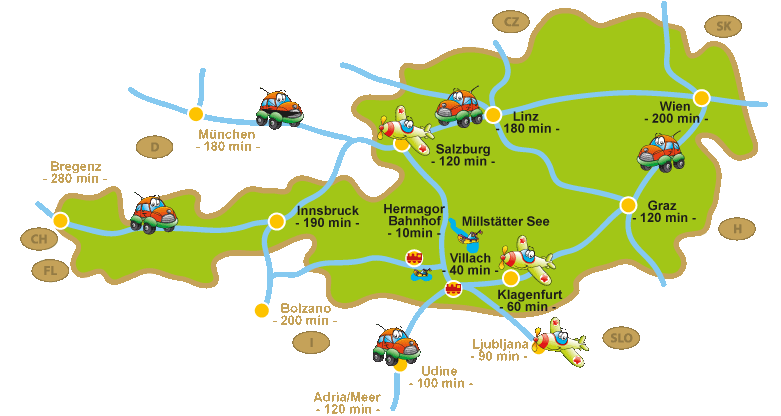 Are dogs allowed at the Kinderhotel Ramsi?
You are welcome to bring your four-legged darlings with you.
However, dogs are only allowed in the room types Butterfly, Flipp and Sunshine.
Please do not take your dog into the restaurant areas (dining rooms).
Outdoors, your four-legged friend must be kept on a leash.
Cost per dog: € 12.00/day (without food)
>> please check our dogs rules here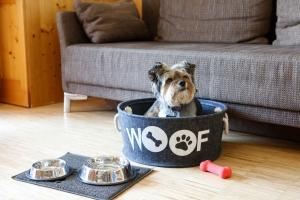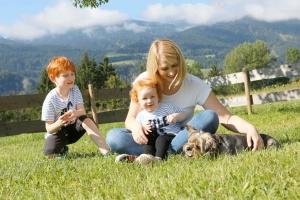 What if I have a food allergy or intolerance?
We take that into account, of course.
It is best to let us know at the time of booking or about a week before your arrival.
Is it possible to borrow bicycles from you?
Of course, happily!
If you fancy cosy family bike tours or spectacular bike adventures between mountain and lake, you've come to the right place. Our partners in the region have prepared a top selection of state-of-the-art bicycles in all sizes for you. You will find everything you need for your excursions – from mountain bikes to e-bikes, from child seats to protective gear:
Is it possible to borrow skis from you?
For our smallest skiers (the "Pistenflöhe", approx. 2.5 to 6 years old), who learn to ski in the Ramsi ski school directly at the hotel, we have ski equipment in the house.
We are happy to provide it for free (summer/summer ski course only). Everyone else is welcome to rent the required equipment directly in the Nassfeld ski resort.
You have a toboggan run in winter. Is it possible to borrow sleds from you?
Yes, you can do that, we will gladly provide them.
We have a small arsenal of sleds, bobsleighs and sliders of all sizes (for babies, children and adults) that you can loan for free.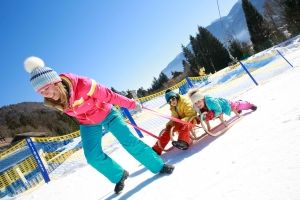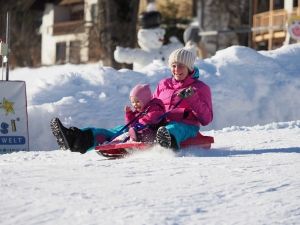 If you have any further questions or personal requests, just send a quick e-mail to info@kinderhotel-ramsi.at. We will get back to you as soon as possible.