On our sunny plateau
there is a lot going on
Take part in the autumn sweepstakes and discover playgrounds as far as the eye can see!
What a perfect start to autumn 2020! We are giving away an imp-ortant family holiday for 3 days in the period from 19/09/2020 to 03/11/2020. And our Ramsi Imp is already immmmmmensely looking forward to meeting you!
Kameritsch, 4 September 2020
How can you participate?

Like our Facebook fan page "Kinderhotel Ramsi" (if not already done) and like (like) the competition post which says:

Tell us in a comment why you want to spend your imp-ortant autumn holiday at Ramsi.

Mark a friend in your comments, who should also get to know the world of nature.

The prize will be raffled off among all likes and comments left on the Facebook post by 08/09/2020 at 5 p.m. You can make several comments directly under this post, but only participants who have actually "like" the post make their way into the raffle pot!
The winners will be drawn by a lucky fairy and notified via Facebook message. If a winner does not reply within 24 hours, we will have to pass on the prize to the next in row. Our terms and conditions can be found here at: www.kinderhotel-ramsi.at/gewinnspiel
Supercalifragilisticexpialidocious
playgrounds as far as the eye can see
Ha, well, we could have imagined that! It is not a monkey! It is our Ramsi Imp, mixing with all the young people, swooshing down the gorilla slide and running across the meadows.
But this was clear to us from the start.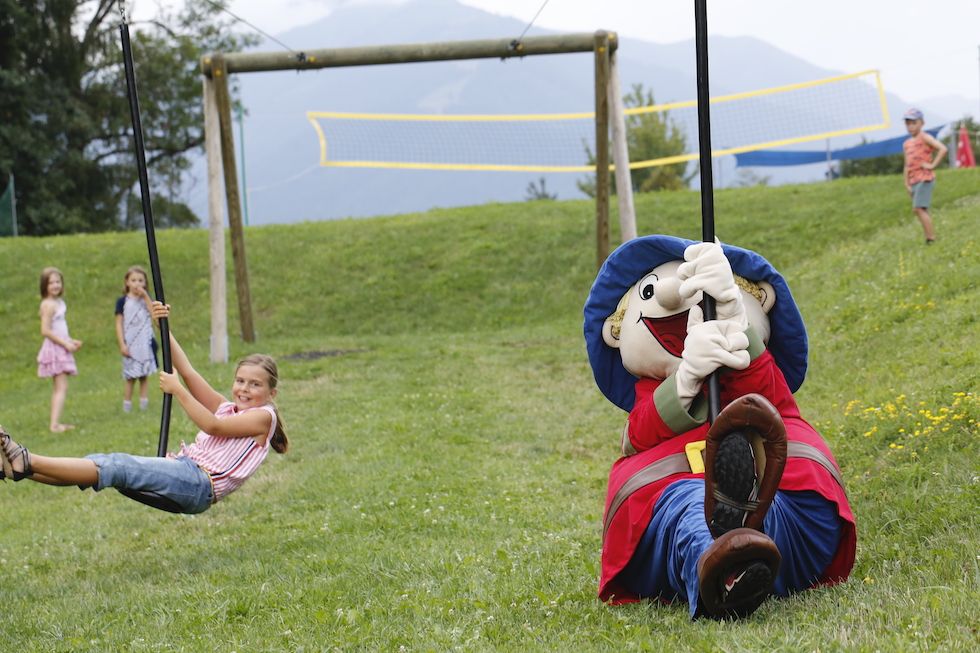 Ramsi just loves to play and laugh with the children. Especially outdoors in our Nature Experience World and on our playgrounds. These are not just any playgrounds. They are top-of-the-range! And supercalifragilisticexpialidocious!
Lots of outdoor play and fun!
On our 100,000 m2 sunny plateau with many, many adventure playgrounds you can let off steam all year round to your heart's content. Here you can hop, jump, climb, dredge, shovel, balance, score goals, be creative, walk barefoot, go karting and much more.
Welcome to Mud Monster City
For example, simply grab a bucket and shovel and head to the covered Sand-Gatsch-Matsch pit. Dive your hands into the sand, let it trickle through your fingers, pour some water on top and get right into it! Build houses and castles, draw trenches, or create – huhuuu – creepy mud monsters!
Excavator driver, wheelbarrow driver and go-kart driver
Our covered Bob-the-Builder pit is a perfect playground for passionate excavator drivers and wood chip transporters. You can dredge and shovel, build and sweat, laugh and joke.
A wheelbarrow (which we call "Radltruhe"), a shovel and a decent pile of wood chips are of course also part of the game. If you like you can even take a Ramsi cloth puppet for a walk in the wheelbarrow.
Or you can take the little puppet with you to draw a few fun laps on our mini-go-kart track.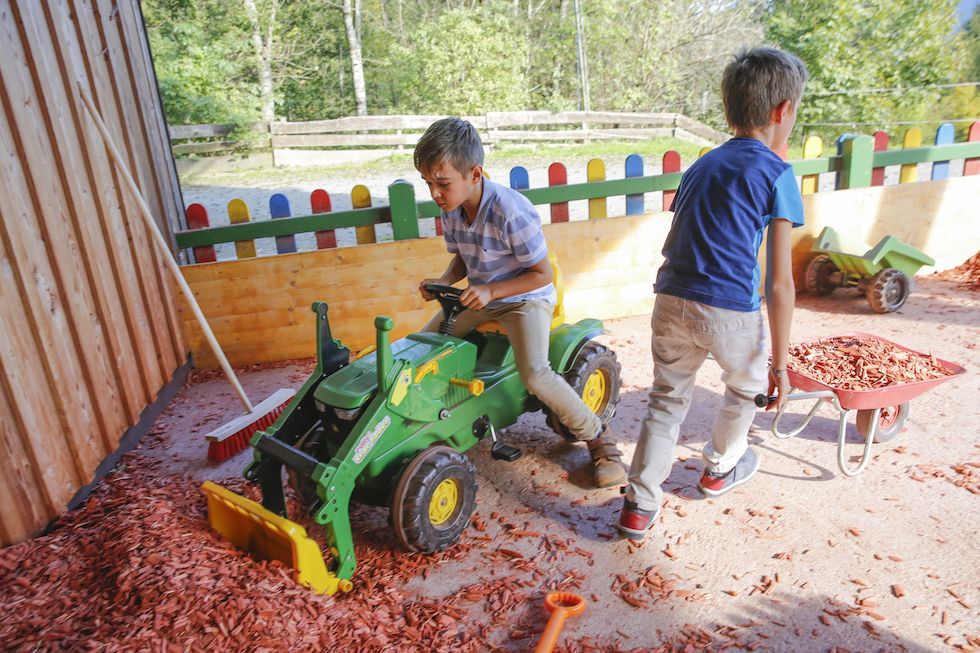 Climbers, damsels, and Jack in the box
A little further on, the climbing towers of our Ramsi castle are rising into the sky. Perfect for climbing and sliding down for noble knights and damsels, bards and court jesters.
A baby-cat jump further, it will get really wobbly on our new wobble bridge and on the wobble floor. It is not that easy at all to keep the balance!
If you have wobbled around enough, why not do some jumping in the bouncy castle or at our trampolines? And –hop– jump all the way through your family holiday.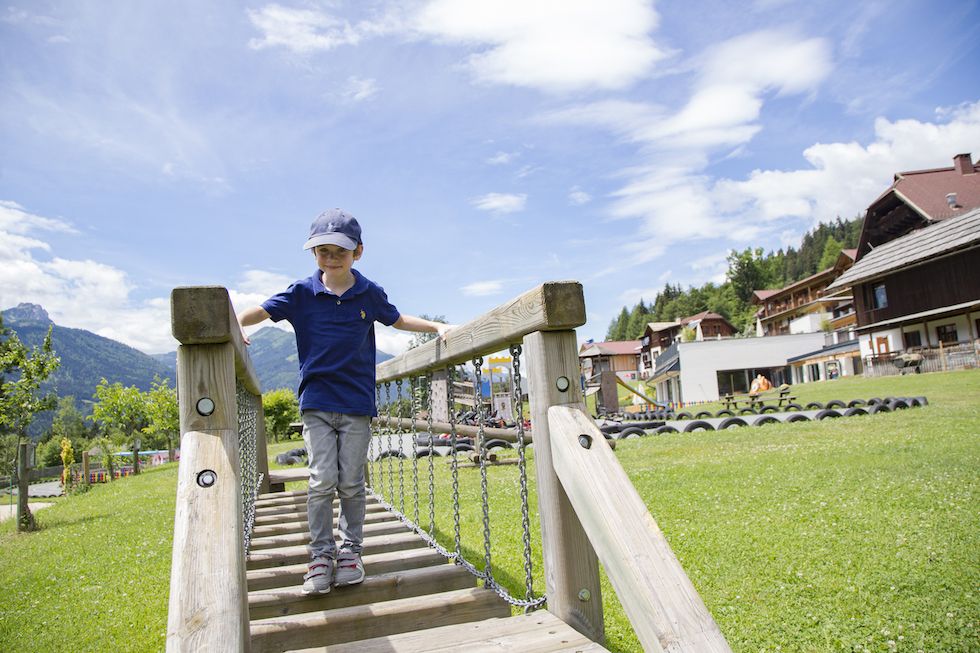 In the swing-wing-wing paradise
If you can't get enough of swinging back-and-forth and up-and-down, just get on one of our swings. We have several of them.
From the family canopy swing to the sailor's swing you will find a lot of swings spread across our sunny plateau. Just sit on or lie down into them and enjoy. And it's best to take someone along to push you on.
Kicking, bumping and setting the balls
Do you know what's really great? That we have so much space on our sunny plateau. There is even a football field and a beach volleyball court. Here you can kick, bump and set the balls to your heart's liking.
Oooor: You can participate in one of our many fun family competitions. Whatever you choose, it will certainly be a lot of fun!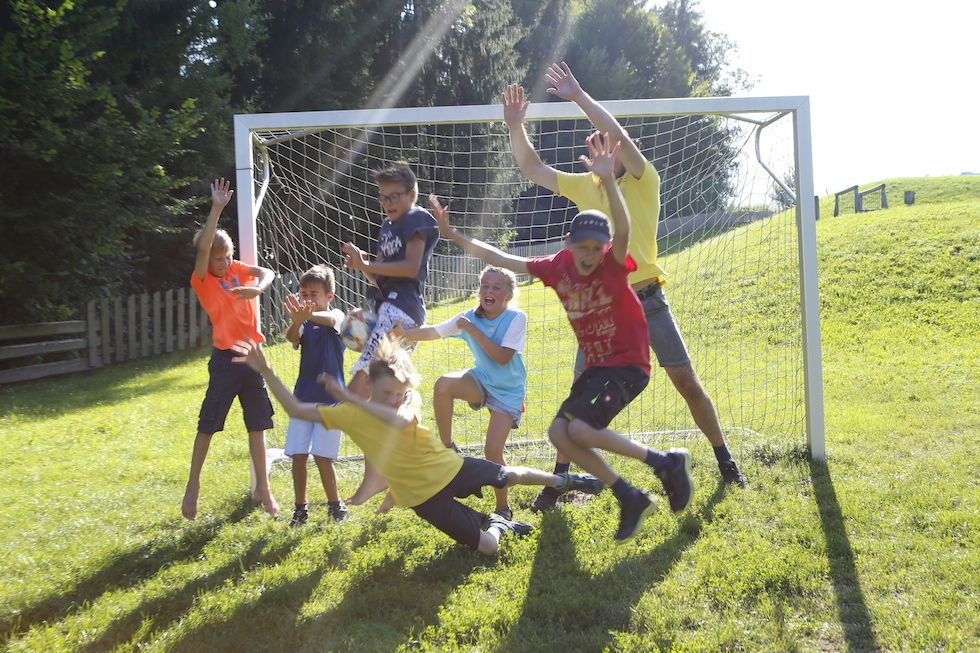 Oh – before we forget it: On our sunny plateau there is of course much more for you to discover. Such as our Ramsi farm with many great animal encounters or our exciting nature expeditions. You can find more information about this under Outdoor Play.